Whole30 Paleo Sweet Potato Chili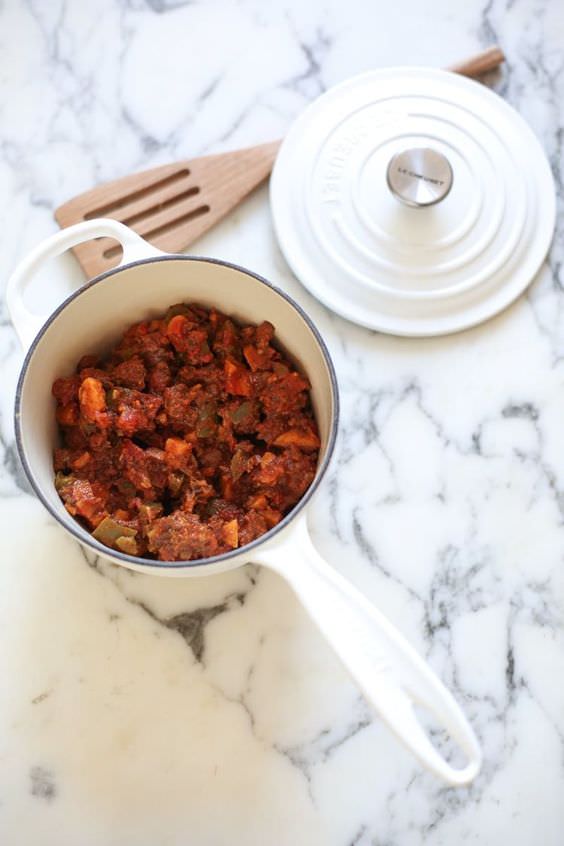 I've been using the same chili recipe for a few years now but have since modified it, and then modified it some more. This chili happens to be Whole30 and paleo compliant but can (and will) be enjoyed by all who eat it. You won't even notice that there aren't beans in there, and can always throw some in if you'd like.
Enjoy!
Ingredients
2 lbs grass fed ground beef
1 onion, diced
3 cloves of garlic, minced
1 cup of carrots
1 jalapeno if you like a little spice
1-2 sweet potatoes
1 red bell pepper, diced
1 green bell pepper, diced
2 cans Trader Joes fire roasted diced tomatoes (14 oz each)
1 can tomato sauce (15 oz)
Spices
3 tbsp. chili powder
1 tbsp. cumin
1 tbsp. oregano
1 tsp. salt
1 tsp. pepper
1/2 tsp. cayenne
Directions
1. Saute onions and minced garlic with a little olive oil until golden. Add ground beef and cook until brown.
2. Drain fat from the pan, and transfer meat, onions, and garlic to a slow cooker or dutch oven.
3. Stir in vegetables and spices.
If using a crock pot, cook on low for 6 hours.
If using a dutch oven, cook over medium heat for about 30-45 minutes, until sweet potatoes are cooked through.
Garnish with a little avocado and voila. A delicious, healthy meal that'll keep you warm and full (but won't make your pants any tighter) this during fall and winter.