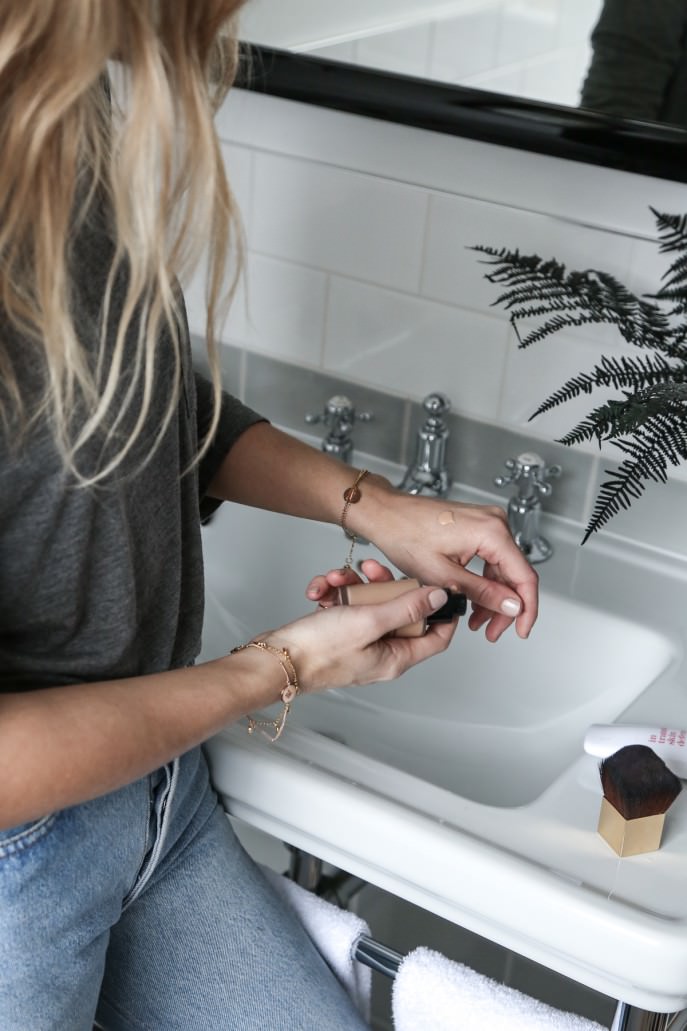 I wasn't always the best when it came to taking care of my skin. Growing up in LA, I was always outside but would forget to apply sunscreen half the time. And there may have been a summer in my early 20s when I visited a tanning salon a few times. Then I grew up and started taking much better care of my skin. And this happened (as did aging) and I got serious about my skincare routine.
I'm pale. I don't tan. I burn. And when I do lay out, I'm always covered in sunscreen. So self tanners (and last summer, a spray tan or two) are my best friend. I needed to find a budget friendly option to spray tans because they're just not practical, and after reading this post, decided to give St. Tropez a try. It's fantastic and has saved my translucent legs this summer. Just be sure to buy this tanning glove (or get ready for orange palms). A little bronzer never hurt anyone, either.
Then there's the SPF. I've been using Bobbi Brown's moisturizer with SPF since I was 17, so actually, at the very least I've been pretty good about always wearing SPF on my face. It's extra thick and great for dry skin, so if that's not an issue, I'd find a less expensive option and just use Bobbi's BB cream which also has SPF. I also recommend this lip balm and can't leave out my favorite sunscreen (I use SPF 30 and apply frequently).
Truthfully, I'm not the best at exfoliating, but when I do, I love this face mask (which I do use once a week), and this one by Kate Somerville, and of course Bobbi Brown beach, because that scent is my favorite. I wear the perfume all summer long.
And last but definitely not least, especially if like me, you seem to find yourself getting older and older as the years go by (I swear I was in my 20s not that long ago, guys), I give you…line reducers. This spray is a summer favorite (very refreshing), age arrest cream, eye cream, and midnight recovery oil.
I'm definitely not a skincare expert but feel like I've learned a thing or two over the years, and if anything, let this post serve as a reminder to you to always always always apply your SPF.
What are your favorite skincare products?